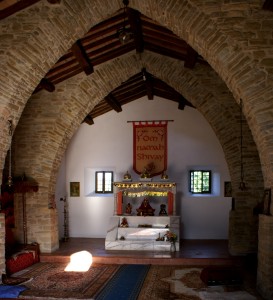 The temple of Bhole Baba Jñana Ashram is located inside the ancient church.
It was for centuries a catholic church dedicated to the Divine Mother (Santa Maria di Pagialla); after the arrival of Raidas and Daniela has been made safe from the damage caused by the earthquake, leaving intact the original structure. The only intervention involved the area of the presbytery with a new floor and the ancient stone altar that was covered with marble suitable to house the deity that would have been placed.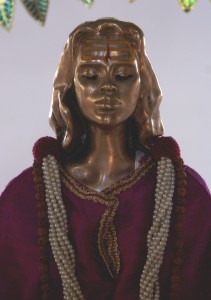 At the center of the altar is installed the murti of Shri Sambasadashiva (Babaji).
On the sides are the murtis of Shri Ganesh and Shri Dakshinamurti.
On the altar are also located a murti of Shri Maha Lakshmi and the sandals of Shri Babaji.
Other murtis of Shri Hanuman and Shri Kalbhairava are at the sides of the Mandir.
The murtis of Jesus and Mary, already present in the ancient church, are installed on two altars at the sides of the temple.
Mornings and evenings are the main moments in which everyone gathers in the temple.
Arati, puja are offered to Babaji and all the Deities.
Verses of praise to Shri Haidakhan Babaji, mantra and kirtan are sung and recited, in the tradition of Haidakhan.